Rutherford: Downstate priorities are being ignored by Gov
Friday February 27, 2004 Posted 10:30 a.m.
---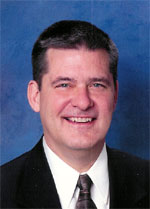 Springfield - State Senator Dan Rutherford (R-Pontiac) says downstate public safety needs are taking a backseat to Chicago special interests.

In a recent letter to Governor Rod Blagojevich, Rutherford gave an example of a $2.5 million grant release in January to a gay and lesbian community center in Chicago. While funding for the gay and lesbian center has been released, the Governor has yet to act on public safety funds for downstate communities.

-My constituents can only assume that the Governor-s administration believes a gay & lesbian community center is more important than their road projects, safe drinking water and sewer upgrades,- said Rutherford. -The Governor is playing politics with a lot of important projects,- said Rutherford. -He is showing obvious favoritism to special interests in Chicago while ignoring the public safety needs of downstate communities.-

In the 53rd District alone, the Governor has yet to approve funds for a special four-wheel drive vehicle for police, various safety-related township road projects, fire trucks, and many other public safety concerns.

-In defending his funding for the gay and lesbian community center, the Governor argued that it was member initiative money and he had no choice, yet he still ignores the public safety projects in Central Illinois,- Rutherford said. -It has been more than a year. It is time to put politics aside and do what is right.-

Rutherford carefully reviewed each project in his district before submitting them to the Governor to ensure that only the highest priorities - public safety, road needs, water & sewer projects, education assistance, and for the benefit of property tax relief - were submitted given the limited state funding that is available.

Rutherford has written numerous letters to the Governor asking for the funds to be released since the Governor took office last January, including a letter sent this week.

-It appears that someone in your administration believes that the expenditure of our limited state funds for the gay and lesbian community center in Chicago is a higher priority than our critical public safety projects,- he said in the most recent letter. -Governor, I respectfully disagree and urge you to personally review the projects.-

Among the projects still awaiting approval are fire truck for a community who lost their truck to a fire, funds to help resolve an environmental disaster that threatens a community-s drinking water, and fulfilling the State-s commitment to a city that has invested thousands of its own money into an educational/senior community center.

Rutherford sent a complete list of the pending projects in the 53rd District asking if they meet the Governor-s criteria for projects, the timeline for final decisions on the project funding, and the criteria used to award funds to the gay & lesbian community center.