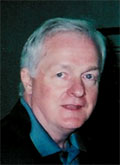 Gary M. Davis, 59, of Liberty, Mo., formerly of Minonk, died Sunday (Oct. 21, 2001) at his home.
His funeral Mass will be at 10:30 a.m. Saturday at St. James Catholic Church, Liberty. He will be cremated. Visitation will be from 6 to 8 p.m. Friday at the church, with a prayer service at 8 p.m. Charter Funerals, Gladstone Mo., is in charge of arrangements.
In lieu of flowers, memorials may be made to the Sean Davis Scholarship Fund, in care of Clay County Savings, 1178 W. 152 Hwy., Liberty, MO 64068.
Mr. Davis was born Aug. 3, 1942, in Bloomington, a son of Milton Elmo and Mary Rita Davis, who lived in Minonk. He married Pat Coombs. She survives.
Other survivors include three sons, Scott, Todd and Sean; his mother, Mary Rita Davis; a brother, Richard Davis; and a sister, Donna Cummings.
He was preceded in death by his father.
Gary graduated from Minonk-Dana-Rutland High School as an accomplished athlete and with honors in choir. He also attended Southeast Missouri State University, obtaining his bachelor's degree in mathematics and history. He belonged to the Sigma Tau Gamma Fraternity.
Upon completion of Naval Officer Candidate School at Newport, R.I., he was commissioned as an officer (Ensign) in the Navy. After his naval career, Gary filled his life with outstanding, successful accomplishments as national sales manager and vice president of sales and marketing in the Heat Transfer Industry.
In recent years, he began his own consulting company, Gary M. Davis & Associates, providing services such as the hiring of sales representatives for domestic and international business corporations.
We Love You, GARY, and miss you already. Your clever wit, generosity and love will always have a special place in our hearts. GOD BLESS YOU.