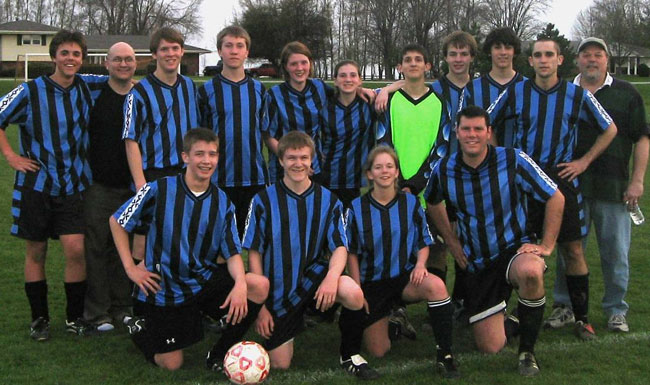 Photo: Spring 2007
Left to right: Front row: Justin Miller, Gage McKinley, Emma Kirby, Jeremy Donhardt. Back row: Dylan Zimmerman, Kipp McDonald, Aaron Porzelius, Bryan Andrews, Megan Evans, Haley Evans, Mike Snyder, Mark Rhoads, Jacob Nunez, Jeff Morrison, Mike Zimmerman.
Players not pictured: Nate Covert, Sky Emmett, Troy Miller, Paul Kosur, Jordan Stalter, Nathan Kennell, Eric Artis, Michael Kennell, Brian Haller, Ben Frerichs, Caleb Zimmerman, David Zimmerman, Justin Fehr, Rozonna Catarinnicchia.
The MidState Stars begins Spring Outdoor Season on April 2nd.
MSI Adult Soccer League
All games to be played at Sale Barn Fields in Bloomington, behind the Sale Barn off Route 51 and Hamilton Spring Adult League: 1. Chicago Power 2. Grudge 3. Fusion 4. Pub II 5. Barcelona 6. Thirsty Beavers 7. Shockers 8. Victorious Secrets 9. MidState Stars 10. United City 11. Good Calls 12. Normalite Relief Fund 13. Celtic Pride 14. Beligerant Ballers 15. Titans United 16. Broadway Elite
MidState Stars Spring Outdoor Schedule: Wednesday April 9th 6:00 pm Thirsty Beavers vs MSSC 7 - 0 Monday April 14th 6:00 pm Celtic Pride vs MSSC Re-Scheduled Sunday April 20th 6:00 pm Broadway Elite vs MSSC 0 - 7 Wednesday April 23rd 6:00 pm Good Calls vs MSSC 3 - 1 Saturday April 26th 1:00 pm Celtic Pride vs MSSC 3 - 3 Thursday May 1 6:00 pm MSSC vs Beligerant Ballers 1 - 9 Saturday May 17th 6:30 pm United City vs MSSC 4 - 1 Monday May 19th 6:30 pm MSSC vs Normalite Relief Fund 2 - 2 Sunday May 18th 6:30 pm Victorious Secrets vs MSSC 1 - 3 Wednesday May 28th 6:30 pm Beligerant Ballers vs MSSC Cancelled Sunday June 8th 1:00 pm Celtic Pride vs MSSC 8 - 4
Spring Stats: Goals Scored: Sky Emmett 0 Bryan Andrews 0 Troy Miller 0 Paul Kosur 1 Dylan Zimmerman 1 Emma Kirby 0 Haley Evans 0 Patrick Luckey 0 Justin Miller 0 Nathan Kennell 1 Michael Kennell 10 Brian Haller 1 Jordan Stalter 1 Eric Artis 1 Caleb Zimmerman 1 David Zimmerman 2 Max Huschen 2 Sam Huschen 0 Peter Catarrinnichia 1
Saves: Bryan Andrews 0 Paul Kosur 0 Troy Miller 0 Eric Artis 0 Justin Miller 0 Mike Snyder 30 Ben Frerichs 53 Max Huschen 4 Mike Zimmerman 8 Brant Janssen 14 Take-Aways: Emma Kirby 46 Paul Kosur 19 Rachel Bradd 6 Dylan Zimmerman 33 Troy Miller 8 Patrick Luckey 0 Bryan Andrews 27 Sky Emmett 8 Jordan Stalter 19 Justin Miller 3 Eric Artis 22 Nathan Kennell 28 Tim Wilcoxen 0 Derek Gruen 3 Michael Kennell 20 Brian Haller 32 Justin Fehr 8 Caleb Zimmerman 19 David Zimmerman 17 Mike Snyder 13 Rozonna Catarinnicchia 4 Jordan Grusy 6 Max Huschen 21 Sam Huschen 11 Peter Catarrinnichia 1 Dale Piercy 4
Shots on Goal: Dylan Zimmerman 7 Emma Kirby 0 Rachel Bradd 1 Troy Miller 0 Paul Kosur 2 Bryan Andrews 3 Sky Emmett 0 Jordan Stalter 5 Partick Luckey 0 Justin Miller 1 Nathan Kennell 10 Tim Wilcoxen 0 Michael Kennell 22 Brian Haller 6 Justin Fehr 2 Caleb Zimmerman 16 David Zimmerman 9 Eric Artis 3 Max Huschen 12 Sam Huschen 7 Assists: Bryan Andrews 0 Dylan Zimmerman 1 Patrick Luckey 0 Haley Evans 0 Sky Emmett 0 Troy Miller 0 Paul Kosur 0 Justin Miller 0 Jordan Stalter 0 Nathan Kennell 0 Emma Kirby 0 Michael Kennell 1 Brian Haller 0 David Zimmerman 1
MSSC Winter Session 1 Final Record 2 - 7 MSSC Winter Session 2 Final Record 3 - 5 MSSC Spring Adult League 2 - 5 - 2