20 - Mr. and Mrs. Ray Borens were admitted to Heritage Manor Nursing Home in El Paso.

18 - Mike Palmore was admitted to St. Mary's Hospital in Streator on February 18.

14 - John Ryan is home from the hospital recovering from knee surgery.

14 - Duane Fort was taken to St. Francis Hospital on February 13.

12 - Old buddy reunion: Congratulations on the new website. I think it is very interesting and I am sure many away from the area will appreciate your efforts. I am attaching a photo of a mini-reunion of MDR class of '62. Four of us got together in Phoenix last September for dinner and a visit. L to R, Byron Sabol, Gary Cinnamon, Ken Thorp, Ray Schneider. We met at Byron's home in Paradise Valley. I live in Sacramento, CA, was passing thru on way to family reunion in Colorado. Byron was kind enough to contact the other 2 guys in town for the get together.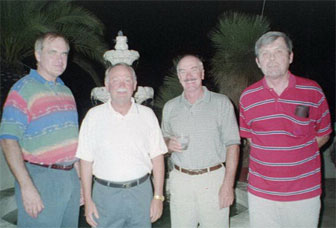 I have also attached a photo on the Cinnamon family, who got together for a reunion in Paradox, Colorado, at the ranch of Frank and Mabel Cinnamon Schneider.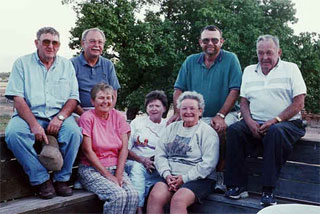 L to R: Rear, Jim Cinnamon, Minonk; Gary Cinnamon, Sacramento, CA; Steve Cinnamon, Omaha, NE, Bob Cinnamon, Effingham, IL Front, L to R: Mabel Schneider, Paradox, CO, Joanne Mantikos, Moab, UT, Gladys Alleman, Tonica, IL. Hope this helps add to the character of your website.
Thanks
Gary Cinnamon
glcinnamon@hotmail.com als
10 - - Bill Herman Sr. is home from the hospital recovering from knee surgery and is starting therapy.
---
9 - - Ray Borens has been admitted to BroMenn Hospital in Bloomington.
---
9 - - Bob Riely had surgery and is recuperating at St. James Hospital in Pontiac.
---
9 - - Marge Schmillen is in St. Joseph's Hospital in Bloomington for tests. She is expected to be released soon.
---
7 - - John Ryan returned home from the hospital on Saturday, February 3.
---
5 - - Bob Riely was admitted to St. James Hospital in Pontiac on Saturday, February 3.
---
4 - - Wanda Patterson writes to tell us the following: "Art and Sybil Howell were visiting Art's brother in Mississippi. The brother is 88. Then they went to Texas and bought another winter place there. They had decided to stay in Illinois for the winters after a long time of being snowbirds to Texas but this winter must have changed their minds. See you in the spring once we thaw out Sybil and Art. P.S. I love this site."
---
1 - - Jack Cullen and Dave Uphoff visited Gail Cullen at the Claremont House Rehabilitation Center in Buffalo Grove, IL on January 21. Gail is undergoing therapy after an extended stay in the hospital. His home address is 812 Clohesey, Buffalo Grove, IL 60090 for those wishing to send him a card or letter.
---